F1000-NxW Medical Joystick
NEMA 4X / 4 (IP66) Medical Mouse
Joystick Options
Single Axis or Two Axes Analog Joystick, Push-Button and Non Push-Button, Three input/output voltage options, Four (4) Joystick Knobs
Parylene Coating
Parylene Coated boot and handle – toughest molecular barrier protection
Stainless Steel Enclosure
USB Medical Mouse or Motion Controller in a NEMA 4X (IP66) Stainless Steel Enclosure
Watertight Sealing
NEMA 4X (IP66) M20U6-NxW
NEMA 4 (IP66) for OEM Models
Multiple Configurations
The Medical Mouse can be also integrated into the Medical Keyboard Series
External Analog PCB For OEM
Improves reliability and eliminates drifting or "in-service" recalibration issues.
inductive sensor technology
Non-contacting inductive sensor technology- high reliability (99.999%) and durability (10,000,000+ random deflections)
Operating Temperature
Range -40°C to 80°C (-40°F to 176°F)
MEDICAL JOYSTICKS
NEMA 4 (IP66) OEM Analog Joystick
Medical Joystick
Medical Grade Joystick with Manufacturing Options


The F1000 Series Medical Joystick can be tailored to meet demands of many applications across the medical and life sciences fields. The special Parylene coating protects the Medical Joysticks from chemical agents and bio-hazardous materials allowing for repeated disinfection and sanitization.
Medical Devices
Other Medical Grade Devices designed and manufactured by CTI Electronics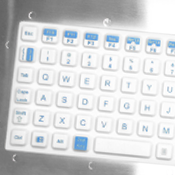 Medical Keyboards
NEMA 4/4X (IP66)
NEMA 4 / 4X (IP66) Medical Keyboard Solution by CTI Electronics Corporation. Available in OEM and Plug-n-Play Models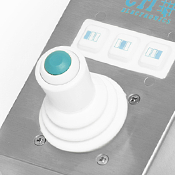 Medical Mouse
NEMA 4/4X (IP66)
NEMA 4 / 4X (IP66) Medical Mouse Pointing Device Solution by CTI Electronics Corporation. Available in OEM and Plug-n-Play Models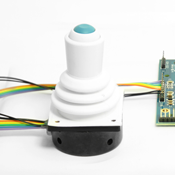 Medical Motion Control
NEMA 4/4X (IP66)
NEMA 4 / 4X (IP66) Medical Motion Control Solution by CTI Electronics Corporation. Available in OEM and Plug-n-Play Models